Meet the Lanning Family Chiropractic, P.C. Team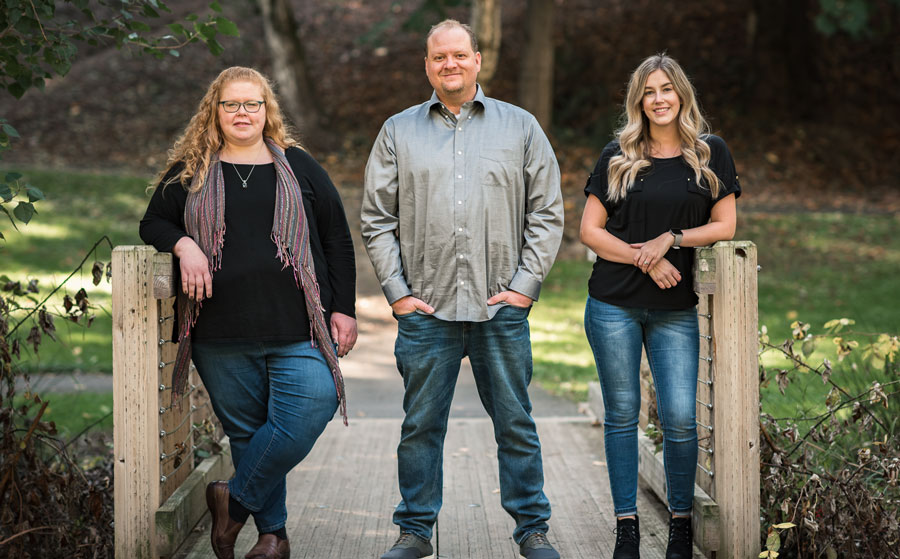 "Besides the soul-satisfying experience I get from helping people like you," says Dr. Lanning, "one of the great things about Lanning Family Chiropractic is I get to work beside wonderful paraprofessionals. Please meet Katie, Holly, and Ben."


Meet Katie
"As a Chiropractic Assistant I get to work with patients by applying hot packs and electric stimulation before an adjustment. I am also able to take vitals and assist patients with any exercises the doctor has recommended.
My job duties include, but are not limited to; answering phones, scheduling appointments, taking co-pays and making follow up calls to patients. I regularly check insurance benefits, and enter insurance payments on a patients account. I am also responsible for keeping up on any internal and external marketing, such as managing our social media platforms and making any necessary updates to our website. "I love seeing people walk out of the office feeling better, and more relaxed." I am a firm believer in Chiropractic and the many benefits it has on the human body. I myself get adjusted regularly to help with back pain related to scoliosis."
Hobbies and Activities:
"I love spending time with my husband, Nic and our children Lukhas and Ellie. We enjoy camping, fishing, riding our quads, going swimming, and playing board games at home. We also like to spend time with our friends and extended family."

Meet Amanda
Amanda's bio is coming soon!

Meet Holly
"I enjoy working as a Chiropractic Assistant because I see people 'feel better' every day. My role offers me the opportunity to perform varied tasks throughout the day. I check patients in and out, answer patient's questions and prepare them for their Chiropractic experience. Part of my duties is to apply modalities, such as hot packs, electric stimulation, ultrasound, stretching techniques and light massage, to help a patient feel relaxed before an adjustment. The goal of my position is to make patients feel comfortable and educate them on the many, wonderful benefits of Chiropractic. I have a very rewarding role in the Chiropractic profession and I certainly love it!"
Hobbies and Activities:
"I love art and enjoy designing a variety of craft projects such as scrapbooking, personalized greeting cards, invitations, and various marketing materials for the business, as well as, for friends and family. I spend most of my time being a mother to my daughter, Kate and son, Drew."

Meet Ben
"My professional goal is to help improve the quality of life through Chiropractic, Sports Therapy and Massage. I've dedicated my life, personally and professionally, to the belief in maintaining a healthy body through exercise, proper nutrition, Chiropractic and Massage. I enjoy helping others to achieve optimum performance in sports, fitness and recreational activities and in improving their overall quality of life."
Hobbies and Activities:
"I love to mountain bike, hike, camp and travel with my son."
---
We look forward to meeting with you in person and learning how chiropractic can fit into your health care goals. Give our McMinnville chiropractic office a call or click here to email us and we can arrange a time to explore your options!
Lanning Family Chiropractic, P.C.
McMinnville, Sheridan, Lafayette | (503) 474-0664